UO Human Biology Research Laboratory
The Human Biology Research Laboratory is directed by Dr. Josh Snodgrass and focuses on the development and application of minimally invasive techniques (e.g., dried blood spots and saliva) for assessing health and physiology in population-based research. Our primary research in the lab involves the use of biomarkers, such as cortisol, alpha-amylase and Epstein-Barr virus antibodies, to better understand how psychosocial stress contributes to the development and progression of cardiovascular disease. We also study life history trade-offs in growth and immune function using biomarkers such as C-reactive protein and immunoglobulin E.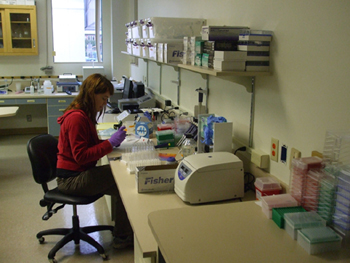 The laboratory is located in the Center for Medical Education and Research building on the campus of the Sacred
Heart Medical Center in Eugene, Oregon (1 block west of UO). The lab is equipped to support immunoassay analysis
of human blood, saliva, and urine samples and, additionally, provides facilities for data analysis. Click here for directions
to the lab.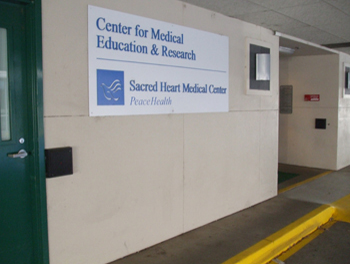 The laboratory also houses portable metabolic equipment, including a MedGraphics VO2000 unit, which allows the measurement of energy expenditure in lab or field conditions. Additional equipment is available for assessment of
physical activity (e.g., Actical and Actigraph activity monitors and Polar heart rate monitors), body composition
(e.g., bioelectrical impedance analysis instruments), body temperature (Vitalsense telemetric physiological
monitoring systems), and cardiovascular/metabolic health (e.g., blood pressure monitors, Cardiochek PA, Cholestech
LDX & GDX, and Hemocue instruments).

My lab is located in the same lab cluster as other several other UO labs and shares resources with a number of human physiology labs, including the Andrew Lovering's Cardiopulmonary and Respiratory Physiology Lab, Hans Dreyer's Muscle Physiology Lab, and Jeff Gilbert's Renal and Reproductive Physiology Lab; Kirstin Sterner and Nelson Ting's Molecular Anthropology Lab; and Pranjal Mehta's Social Psychoneuroendocrinology Lab.
For more information on the types of biomarker analyses performed in my lab click
here
. This publication also
contains information on the biomarkers that can be measured from dried blood spot samples.



Current Lab Projects:



Couples/Romantic relationship influences on health in adulthood
Shuar Health and Life History Project
Stress, discrimination, and health among Latin American immigrants in Oregon
Acculturation, stress-systems, and Latino risk behaviors
WHO Study on global AGEing and adult health (SAGE)
Selected Lab Publications and Presentations:
Squires et al. 2012. Diurnal cortisol rhythms among Latino immigrants in Oregon, USA. J Physiol Anthropol 31: 19, available in early view. (link to article)

Urlacher et al. 2012. The Shuar Health and Life History Project: Knemometric assessment of short-term childhood growth in an indigenous Amazonian population (meeting abstract). Am J Hum Biol 24: 246.

Liebert et al. 2012. The Shuar Health and Life History Project: The relationship between market integration and diurnal salivary cortisol rhythms of children in an indigenous lowland Ecuadorian population (meeting abstract). Am J Hum Biol 24: 232.

Snodgrass et al. 2012. Acculturation, chronic psychosocial stress, and health among Latino mother-child pairs in Texas (meeting abstract). Am J Phys Anthropol (Suppl) 54: 274.


Blackwell et al. 2011. Evidence for a peak shift in a humoral response to helminths: Age profiles of IgE in the Shuar of Ecuador, the Tsimane of Bolivia, and the U.S. NHANES.
PLoS Neglect Trop D 5: e1218.

Blackwell et al. 2010. Life history, immune function, and intestinal helminths: Trade-offs among immunoglobulin E, C-reactive protein, and growth in an Amazonian population. Am J Hum Biol 22: 836-848.

(
cover photo
)


Ridgeway-Diaz et al. 2011. The Shuar Health and Life History Project: Epstein-Barr virus and market integration in the indigenous Shuar of Ecuadorian Amazonia (meeting abstract). Am J Hum Biol 23: 274.

Shattuck-Faegre et al. 2011. The Shuar Health and Life History Project: Immune pathways and Epstein-Barr virus (meeting abstract). Am J Hum Biol 23: 276.

Liebert et al. 2011. Immunoglobulin E, C-reactive protein, and cardiovascular and metabolic health among the indigenous Shuar of Ecuador (meeting abstract). Am J Hum Biol 23: 264.

Current Lab Members:


Melissa Liebert (PhD candidate)
Will Olson (Oregon undergrad)
Vimal Balu (Oregon undergrad)
Klaree Boose (PhD student)
Current Lab Interns:

Robyn Brigham (Oregon undergrad)
Blanche Blumenthal (Oregon undergrad)
Austin Wong (Oregon undergrad)
Former Lab Interns:

Bailey Albrecht (Oregon undergrad)
Mitch Volpe (Oregon undergrad)

Former Lab Members:
Aaron Blackwell (PhD, Oregon, 2001; now an Assistant Professor at UC Santa Barbara)
Chelsey Iida (BS, Oregon, 2011; now in a graduate program in Biology at Oregon)
Felicia Madimenos (PhD, Oregon, 2011; now an Assistant Professor at CUNY--Queens College)
Julia Ridgeway-Diaz (MS, Oregon, 2011; now in medical school at UCSF)
Katie Schweber (BS, Oregon, 2013)
Heather Shattuck-Faegre (now in a PhD program at Harvard University)
Liz Streeter (BS, Oregon, 2013)